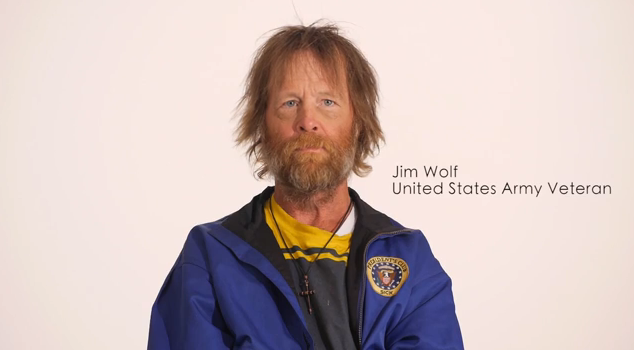 There's been a video circulating over the past few days of a homeless veteran getting a makeover. I…am kind of surprised that I could type that sentence and then still need to follow it up with an explanation of why that's absurd, manipulative and outright demeaning, but with 5.1 million views on YouTube and counting — and a constant presence in my social media streams — it seems that it really does need to be discussed.
So, please, if you haven't already, add one more view to the video, and we'll continue. Because as many times as I've seen this referred to as "inspiring" and "magical," it's really just offensive. And exploitative. And we should be embarrassed by it.
When I first came across the above video, it was spotlighted in this post. The title of that post assured me that the video would give me chills. That was kind of interesting since the thumbnail and description pretty much suggested they were just giving this guy a haircut, but I figured it was worth watching. After all, why would that give me chills?
Maybe at the end his little daughter that he hasn't seen in years would come out and hug him, or something. That would still be manipulative, but it might also successfully provide "chills" so…okay.
But, nope. It's a haircut. Oh, and they trim his beard and give him a tie.
Wow, chills. Except for the fact that I grew up in southern New Jersey, and "hairy guy trims his beard and puts on a tie" isn't uncommon to anyone familiar with the concept of prom night.
So, fine. Chills or no chills, that's not the point.
This is the point: as a culture — as a society…as a civilization — we're already doing our damnedest to give every man, woman and child body image issues. All this video succeeds in doing is extending that particular neurosis to the homeless as well.
It's sickening. And I realize that this requires further unpacking. So, hey, I've got some time. Do you?
Then let's proceed.
The balance of content in the video is the giveaway. Or, rather, the clear imbalance. In a video that's about two minutes and fifty seconds long, two minutes and twenty seconds are spent on the makeover. The assurance that the veteran Jim Wolf has turned his life around is relegated to two vague slides of text.
Ask yourself what's more important, as far as the video is concerned. Is it the way he looks? Or is it the more positive direction his life has now taken? It's not a matter of opinion; there's a clear answer here. It comes down to the fact that he looked like a hobo, but has now been groomed and dressed up.
To me, it's more important to know whether or not Jim Wolf left the studio to sleep in a gutter again that night. To the makers of the video, it's more important to know whether or not he was wearing a tie when he did so. And that's disgusting.
It comes down to more than just the amount of time the video spends on each, though: the execution is also telling, and more important when interpreting what's happening here.
We start with an image of our subject, alongside a caption that reads "Jim Wolf, United States Army Veteran."
That's a name, and that's a fact. That's not a description.
Who is Jim? What's his history? "Army Veteran" says precisely nothing. Did he serve overseas? Was he involved in any wars or conflicts? Where was he stationed? With whom did he serve? What years was he active? What was his role? What was his specialty?
Does any of that matter when determining whether or not to thank him for his service? Of course not. But it's meant to illustrate just how vague a descriptor "United States Army Veteran" is. One veteran could have served in Vietnam and been the lone survivor of an ill-fated recon mission. One veteran could have served in Texas during a time of no conflict and filed paperwork all day.
I'm not suggesting that one is inherently better or worse than the other, but I am suggesting that the two human beings would have very different experience from each other. They're both veterans. Fine. But that means nothing. As human beings, they're worlds apart.
Of course, the video isn't interested in treating Jim Wolf as a human being. When we aren't even made privy to his years of service, there's your giveaway that this isn't about helping an individual; this is about the manipulation of the audience.
It's also telling that Wolf doesn't get any chance to speak. We don't get to hear his story. I'm sure he has one, but the video is more interested in the fact that a disheveled man gets a haircut. What, exactly, is meant to be inspiring about this again?
Well, I'll tell you: the music and the editing. That's what's meant to inspire. Not the substance (because there is none), not Wolf's story (because it actively prevents us from hearing it), and not the assurance that Wolf is going to be any better off (because…well, we'll get to that).
The score builds and layers and rollicks toward triumph, and the time-lapse nature of the editing hurtles toward a grand reveal. It's a bait and switch, and one borrowed from the most deliberately misleading film trailers. It wants to generate a certain feeling in us, but it's a feeling that the material itself cannot provide. It's the hollowest possible kind of "inspiration," and it's one that only works because it withholds the humanity.
What if Wolf spoke? Well, he probably wouldn't sound like Ryan Gosling or Alec Baldwin so it's not worth hearing him. After all, he might sound human. Or, worse, he might sound like the actual homeless guy that he is. You know…raspy and sick and probably a little upset that the country he served is now content to let him sleep outside on frigid nights. We can't let that come across, otherwise the haircut might seem…oh…a little silly.
Wolf has a problem. That problem is the country he lives in. That problem is that country's approach to dealing with the sick and the poor and the unemployed and the homeless.
That problem is emphatically not going to be solved by a haircut, a shave, and a necktie. And yet this makeover video wants you to come away feeling that it is solved that way. Because that's easy. That's visual. And, what's more, it's easy on the eye.
This constant whitewashing of our problems is the problem.
You don't fix what's wrong with your society through makeovers, through songs, or through speeches. You stand up and you say, "This is wrong. This is a problem. And we are going roll up our sleeves and we are going to fix this because if we see something is wrong and we don't do that, then who are we?"
And then you know what we do?
We actually do that.
We don't make a video about it.
We don't circulate a link on Facebook.
We don't wear a ribbon or put a sticker on our car.
We get. The fuck. To work.
And if we don't do that…then who are we?
Of course, all of my points above are moot in the face of the fact that this Homeless Veteran Magic Haircut (patent pending) turned Jim Wolf's life around.
Right?
…right?
Well, let's look at all two of the unverifiable sentences that suggest that that's the case. The first one reads, in its entirety, "Since filming, Jim has taken control of his life."
Huh. Well, ya don't say.
What does that mean exactly? What can that mean? The lengths to which the video goes to keep any specific information about Wolf away from us is almost frightening.
Forget Wolf for a moment. Do you have control of your life? Do I? Of course not. How could we? Life is full of curveballs and unexpected obstacles and problems that need to be overcome. What does it mean to "take control" of one's life?
Does it mean you find employment? Find love? Manage to scrape together enough change to buy groceries? Live through the night? Get handed a blanket by a good Samaritan?
It's different for everybody. Which is why it's entirely meaningless. It's a nice thing to hear, but it says, again, precisely nothing.
Jim Wolf is not a human being. At least, not in the eyes of this video. Jim Wolf is a homeless veteran, brought into a studio to be made a spectacle of. The filmmakers don't care about him, and they didn't. If they did, they'd know something about him. And therefore so would we. Instead, for all we know, he's back on the streets.
Oh, but the second slide reads (again, in its entirety), "He is now scheduled to have his own housing and is attending Alcoholics Anonymous meetings for the first time ever."
Well, that's more specific. …kinda.
What does "scheduled to have his own housing" mean? It still sounds suspiciously like "nothing" to me. And does that mean he's still sleeping on the streets? Couldn't Degage Ministries — who so kindly pulled a homeless man off the streets to solicit donations and then released him back onto the streets — give him a place to stay? Maybe they did, but then why wouldn't they say that?
After all, if their objective is to inspire me with this magical video, I can say conclusively that I'd be far more inspired by hearing that some ministry gave a homeless man food, clothing and shelter than I am by hearing that some ministry gave him a haircut and a pat on the back. And I'd hope to God that you would be, too.
There's also a grammatical issue with the AA claim, as you can't keep "attending" something "for the first time ever." Due to that I'm not even sure what the truth is. Did he go once? Does he keep going? I think it's the latter, but how would they know that? He can stop at any time. And even if he doesn't, should this really be his priority when he still doesn't have a place to live?
The video isn't inspiring. The video is sickening. By taking a homeless man and framing a shave and a haircut as the solution to his problem, they're robbing the problem of its bite. They're making it something we need to worry less about. And, what's more, it makes all those dirty, bearded homeless people look like they just don't care. After all, if they really wanted to turn their lives around, they'd put on a tie. Just look what it did for old Jim Wolf!
Don't circulate the video. Please. And if somebody you respect does, send them here. Or talk to them about it.
You're not stupid if you looked at this and felt inspired. That's what it was designed to make you feel.
But you shouldn't feel inspired by anything that takes a serious, profound problem with the very core of the society in which you live, and presents it as trivial and easily overcome.
You're better than that. And Jim Wolf, whoever he is, wherever he is, deserves better than that. The truly respectful thing to do for Wolf would be to treat him as a human being. This video decidedly does not.
Thank you for your service, Jim. And I'm sorry this happened to you.