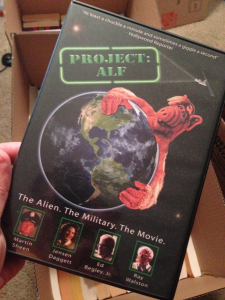 This actually came a while ago, but I forgot to post about it, and only realized as I was boxing stuff up that I owed Phil Malkowski (who sometimes posts here as Another Phil) some genuine gratitude for sending me his copy of Project: ALF.
If you aren't aware, this was the made-for-TV movie that tied up the loose ends from the sitcom. It aired a few years later on a completely different network, and aside from Paul Fusco it retains none of the original cast. Needless to say, I'm sure it's fantastic.
I have actually seen this before. In fact, I watched it when it first aired…and may not have finished it. I certainly didn't ever feel compelled to watch it again. I remember it being awful, and as a kid who liked the sitcom, the prospect of dusting this off after episode 99 is not an exciting one.
Regardless, this was the last piece of the puzzle, and I'll review this in its proper place, after season four. I may break it into three posts, but we'll see.
You can click the photo to see it larger, but I'll point out that the Hollywood Reporter evidently claims this film contains "at least a chuckle a minute," which both sounds like damning with faint praise and overpromising. I don't think I laugh out loud 90 times at Dr. Strangelove. Is Project: ALF a better film than Dr. Strangelove? We'll find out together!
I also want to thank Jeff, our resident curmudgeon / luddite, who chipped in for the German DVD set. He sent a check so it arrived a bit late, but is still welcome, and thanks to that the set was almost completely paid for by readers. Which is…humbling, to say the least. Thank you.
He did, however, see it fit to include a note with the check: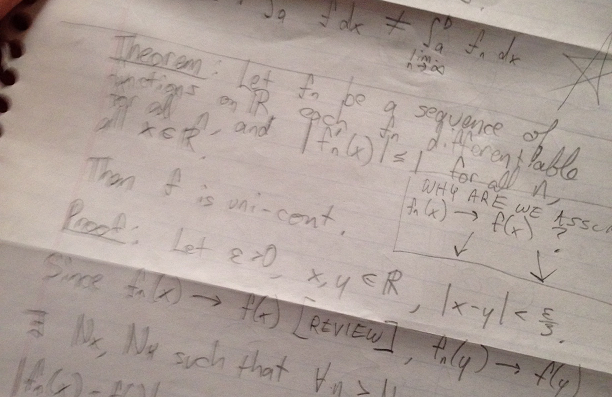 …and I have no clue what I'm looking at. I was an English major. You can't do this to me.
Anyway, thank you, sincerely, to Phil and Jeff!
Also, you may have noticed something I said above about moving. This is good news. I'll be in a great place with a champagne hot tub and supermodels and a rocket dog.
No, actually I'm just moving to a much nicer apartment in a much nicer area with a much better amount of roommates. (Zero.) It took a while, but getting back on my feet financially has been great, and I thank you folks for helping to keep me sane.
I really might get a dog, though.
The good news? It'll probably also give me more time to write stuff here, for reasons that are too boring to list.
The bad news? I'm not sure when my internet will be hooked up in the new place. I doubt it'll be a huge delay, but the week after next could be a quiet one. Your fair warning.
Anyway, thank you for reading / contributing / being all around incredible people. Onward and upward!