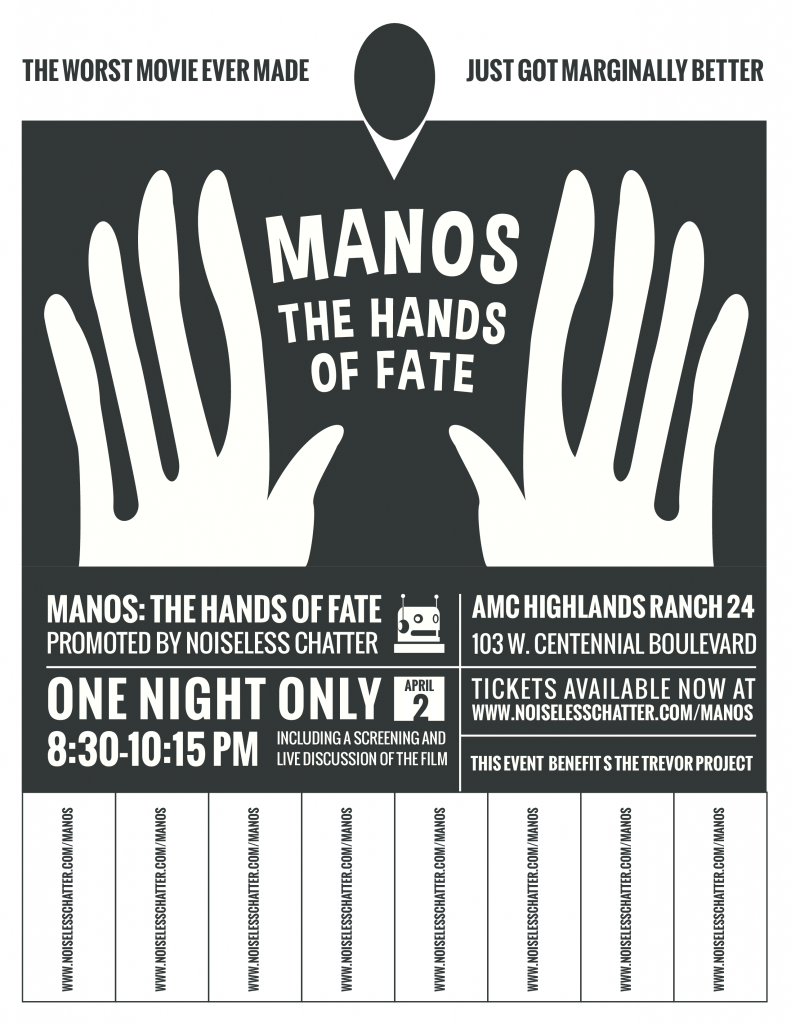 The live screening of the remastered / restored "Manos" The Hands of Fate is happening April 2, and you're invited. All proceeds benefit The Trevor Project, and you'll get to enjoy a great night out with a terrible movie and excellent conversation. Tickets are on sale as of today…and a few have already been sold! We need to sell quite a few more, though, in order for AMC to host the event.
Think of it like a Kickstarter. You don't get charged unless the event actually happens. By purchasing a ticket, even if you can't make it, you're helping the event to happen, benefiting charity, and scoring yourself some sweet Noiseless Chatter swag.
Additionally, everyone who buys a ticket will be invited to a special, private, online screening / discussion of Tommy Wiseau's masterpiece of incompetence The Room.
Even if you can't make it to "Manos" (but I sure hope you can!) you can enjoy The Room.
You can read more about the event here…
But don't forget to buy your tickets! Every purchase pulls this closer to happening, and I'll hug each and every one of you who do. (Airfare not included.)
Noiseless Chatter presents…
Manos: The Hands of Fate – The Restoration
Thursday, April 02 8:30 PM – 10:15 PM
at AMC Highlands Ranch 24
103 West Centennial Boulevard, Highlands Ranch, CO, US, 80129
$12.00 General